No title (the Embrace), 1998
Work of the month
August 2016
No title (the Embrace), 1998
"The embrace" is a subject Ricardo Martínez worked on repeatedly since the 70s and on different versions: human figures standing, sitting, on their knees or recumbent are entwined in an intimate and loving gesture, with the representation of their full bodies as the common denominator.
The painting presented as the work of this month was registered and included in the catalogue in June. It stands out for its particular composition since, unlike in other works, the artist concentrated on the portrayal of the anatomy of the upper body of the characters, underlining the facial expression of one of them. This conveys more intimacy and suggests an erotic atmosphere.
The human figures ressemble sculptures. They are painted in ocre tones and the artist marked the volume of the figures through the use of thick defining lines. These convey a sensation of heaviness and monumentality, as the figures take up most of the space in the painting, creating the impression that the canvas is too small to hold the large volumes. The neutral background in blue and yellow shades balances the image and centres the attention of the viewers on the couple's expression of love.
The influence of prehispanic sculpture on this work by Ricardo Martínez can be clearly appreciated in the shaping of the heads. The painting displays the artist's skill to create balanced compositions through the use of cold and warm colour shades, as well as a fortunate use of light. He thus presents a glimpse of introspective and endearing feeling.  
Aurora Avilés García
Researcher
Fundación Ricardo Martínez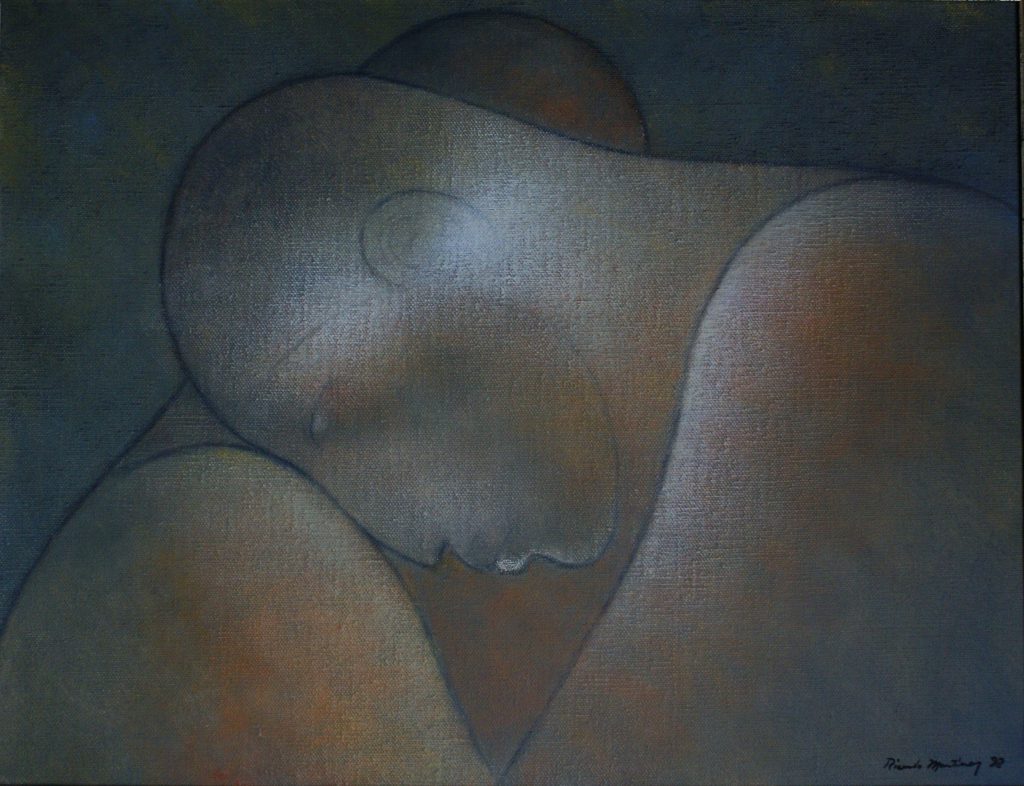 No title (The embrace), 1998, oil on canvas, 49 x 63.6 cm, private collection