Untitled (Dogs with butterflies), 2006
Work of the month
December 2016
Untitled (Dogs with butterflies), 2006
Private Collection
I have the feeling that time has not passed and that one day I'll be talking with Maestro Ricardo Martínez in his atelier…
It is almost 30 years since that afternoon in January 1987, when I crossed the threshold at Etna 32, the Sancta Sanctorum of Maestro Ricardo Martínez, after having made an appointment by telephone. "Call me at two o'clock on the day to confirm", a ritual that would be repeated at least once a month since then until the end of 2008, when I visited him for the last time. It was a deep and sincere friendship and today I look with great affection and gratitude upon the time Maestro Martínez gave me right from our first encounter. He was surprised by the fact that a fifteen year old budding painter should have had the courage to find his telephone number and ask to meet him. Ricardo Martínez was my guide, my counsellor and a kind of second father. Thank you, Maestro, for almost twenty-two years of friendship, affection and moral support.
The dog motif in the iconography of Ricardo Martínez dates from the forties, during a period when he was searching for a personal language within the Mexican School of Painting. Although Martínez did not follow the rules of the School to the letter, he was influenced by it though in a more poetic universe closer to Surrealism in paintings such as The angel in 1942 or Remembrance of Saint George in 1943. Playful dogs can be seen in the former and more threatening ones in the latter. Ricardo Martínez would continue his search and synthesis of both human and animal images, and would use more daring colours and stronger drawing strokes as in his oil painting The corn cobs in 1955.  There is an almost ghostly image of a dog next to two well defined characters, both holding corn cobs in their hands.
Later on Maestro Martínez would illustrate Pedro Páramo by his close friend Juan Rulfo with some ink drawings, one of which presents some beautiful and sleek dogs. Finally, in 1956, Ricardo Martínez would paint an exceptional work under the title The dog fight, where one can already observe the features that would define his more mature production: three men in gray tones and clear strokes observing with indifference the drama of three dogs fighting.
During the last ten years of his life, Maestro Martínez told me he felt certain nostalgia for some early motifs in his painting. We spoke much of some of his dear friends who had already passed away, such as Carlos Mérida, Federico Cantú, Luis García Guerrero, Jaime García Terrés and Leo Lionni.
Towards the middle of the first decade of the XXI century, Don Ricardo again took up the dogs as a motif in his painting, basically on medium sized and small canvases: suddenly a corner of his atelier became full of dogs together with human figures. There was a small canvas with two dogs –one black and the other white– with a blue background, barking furiously at some butterflies. I thought it was beautiful and told the Maestro. By and by all the canvases were sold and one summer evening in 2007 my friend gave me the very painting I had liked so much, I was left speechless and since then the painting has been with me every day of my life. It is not a typical composition in the production of Ricardo Martínez: two dogs whose threatening fangs either want to play with or catch four placid butterflies fluttering above them. It is strange to remember that some months later, Maestro Martínez asked whether it would be a good idea to erase the butterflies: "Of course not, Maestro!" was my reply. Those butterflies are probably some of the very few insects in the work of my dear friend.
Diego Guzmán
November de 2016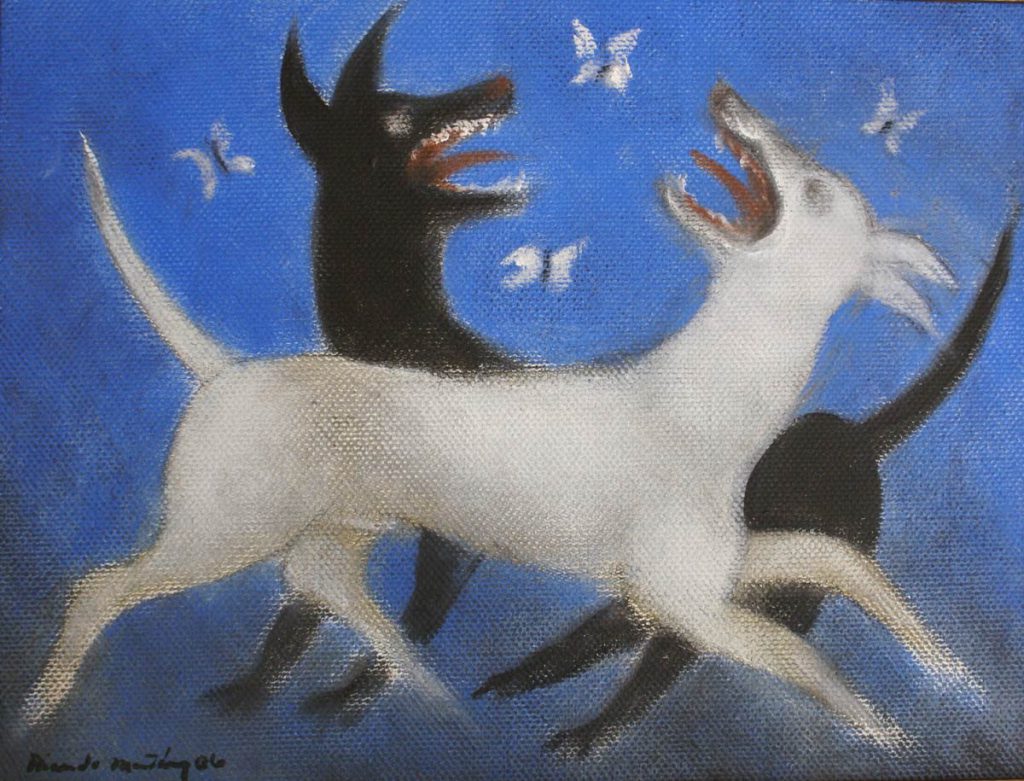 Untitled (Dogs with butterflies), 2006, Oil on canvas, 30 x 40.4 cm, Private Collection