Rocky landscape
Work of the month
July 2016
Rocky landscape
from Galería de Arte Mexicano in 1945 to the Catalogue Raisoné by the Ricardo Martínez Foundation in 2016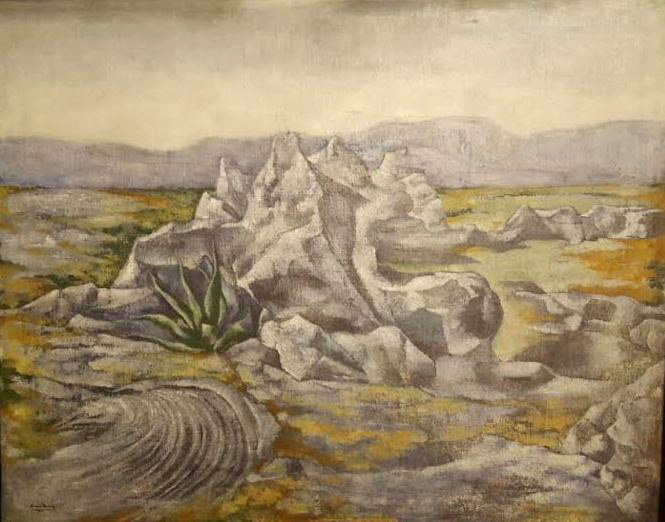 Rocky Landscape, 1945, oil on canvas
Galería de Arte Mexicano held an exhibition of paintings by Ricardo Martínez de Hoyos from 17th to 31st May 1945. The exhibition was a one-man show and its purpose was to present "the remarkable development and interests"[1] of the artist. It consisted of 16 paintings in oil and tempera.
The catalogue includes, among the works exhibited, an oil painting under the title "Rocky landscape" ("Paisaje del Pedregal"), which is probable the work presented as this month's piece. The main reason for this assumption lies in the way nature is presented. The work represents a rocky landscape, which, if compared to other works by the artist on the same subject –"Man in a rocky landscape" ("Hombre del Pedregal"), 1946–, can be identified as a region in the south of Mexico City known as Pedregal de San Ángel. The volcanic rocks covering the landscape as a result of the eruption of the Xitle volcano are thus the main figures in the painting, standing in the centre of the composition and spreading out over most of the landscape, forming different reliefs. A small cactus can be seen next to the rocks. It was a common feature of the area when the painting was made, and can be found in several of the artist's works of that period. The lines in the rocks are straight and angular, something the artist developed in the landscapes he produced during that and the following decade.
It is interesting to perceive the curved surface in the lower left angle, achieved through quick and long brush strokes, in visual contrast with the harshness and simple lines of the rest. The artist thus accomplished a sensation of movement, lightness and softness. It is worth mentioning this contrast between the two forms and textures, since it is not to be found in similar pieces made by the artist during that period. Ricardo Martínez thus accomplishes a masterly and aesthetic dialogue between curved and straight lines.
The painting is signed "Ricardo Martínez de Hoyos – 4/45", in the lower right corner. It was thus finished one month before the opening of the exhibition, which confirms that it included his most recent works, and thus corresponds with its stated aim.
This piece was included in the catalogue raisoné in April 2016, when its present owner visited the Ricardo Martínez Foundation to have it registered and authenticated. We appreciate the support of collectors and regard it an important element towards cataloguing, further research and a deeper knowledge of the artist's work.
Aurora Avilés García
Researcher
Fundación Ricardo Martínez
[1] Justino Fernández, "Catálogo de exposiciones de arte en 1945", in Anales del Instituto de Investigaciones Estéticas, Suplemento no. 14, 1946, p. 6.